Philosophers Notes
An Insanely Genius Way to Learn


** Update - Some of you are lazy and don't like reading. Whereas other people would ostracize you for your lack of conformity, here at Personal Development Planet we embrace inner laziness, and thus there's still mad love for you - so feel free to watch this video review instead **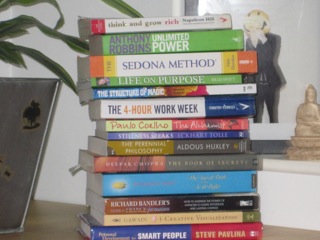 This article will introduce you to the phenomenon that is Philosophers Notes, perhaps the most awesome idea to come out of the personal development field in years. But first, take a quick look at the picture on the right.

This is my bedside table (you'll be thrilled to discover!) and if you're anything like me, you can probably relate: a huge stack of awesome personal development books, brought from Amazon with the best of intentions... but resigned to just sitting there and competing with all the other dozens (hundreds!) of books on the "must read" list.

For all the will in the world, there just aren't enough hours in the day to soak up all of the wisdom in these classic books.... are there?


Let's Play a Quick Game...

Before we get to that, here's a little game I borrowed from the Philosophers Notes website. Play along – it only takes a couple of seconds. It was massively illuminating for me, and me reckons it will be worth a look for you as well.


Start Now:

All you have to do is imagine what you are going to be like 50 days from now (which isn't that long, less than a couple of months... a mere fraction of your existence!) So... what's different between you now and the you seven weeks hence?

Odds are, you'll see the same "you" that you see today. The same career, personality, health, mindset, relationships. Granted, there may (hopefully!) be a couple of improvements, but for the most part it's gonna be the same. Let's face it - Not much can change in under 2 months, can it?



Well... According to Philosophers Notes, Maybe it can...

OK, I want you to imagine what would happen if you called your boss up and told him / her you were taking the next 50 days off to spend at home, to invest the time on improving yourself.

I want you to think about what could happen if you stopped doing everything... EXCEPT reading. (You can eat, sleep, exercise etc as well – you know what I mean!)


For each of these consecutive 50 days, you commit to studying and absorbing the knowledge & wisdom from one of the greatest all-time-classic books on personal development.


It can be Think and Grow Rich on Monday, The Power of Now on Tuesday, Ask And It Is Given on Wednesday... and so on and so on.

After a week, you've already learned and internalised 7 classic books. After three weeks, you've inherited the wisdom of over 20 bestsellers.


In fact, imagine that for 50 days in a row you get through all these books...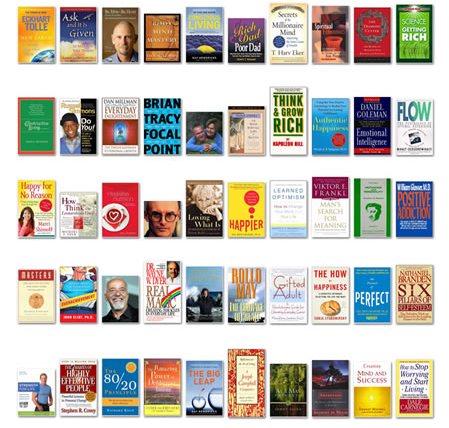 And this is just the start for Philosophers Notes! Now imagine that after 50 days you're feeling so motivated, so high-on-life and so energised that you decide to call up your boss and tell them you are going to take another 50 days off. (Cor – that would be the dream, ay?)

In that time, you do the same thing – read, study, digest and internalise a classic personal development book every day.


After 100 days, just over three months, imagine you had acquired all of this knowledge too...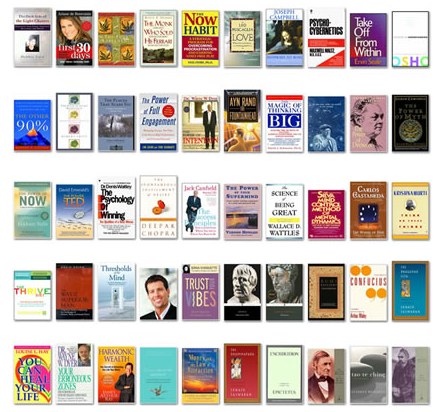 Now, what do you imagine your life could be like after absorbing and internalizing the BIGGEST ideas from the top 100 books in personal growth?


How would you be different as a person?
Do you think you'd be a better entrepreneur, friend, lover and human?
How else would your life improve?


Do you think you'd be more likely to chase after your dreams with poise and perseverance? Do you think you could stumble upon the self-belief and motivation you need to get ahead?

Best of all, after digesting the 100 greatest self-help texts of all time, do you think you would be more likely to have uncovered your life purpose?


Well, while I'm sure all your answers to the questions above would be positive, it's all just a game, because, of course, nothing like this is possible... Or is it?


Well, "conventional wisdom" says you certainly can't put your life on hold for 50 / 100 days to focus on personal development, as much as you'd probably like to.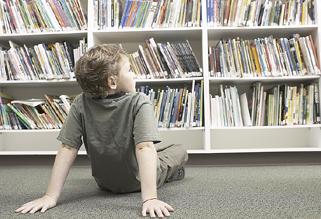 Additionally, reading 300+ pages a day – and internalising the information – would be practically impossible – and exhausting.

Finally, even if you could do all of this, you'd be looking at around a $1000-2000 investment – and a shed load of storage place.



That means this is just a pipe dream... right?



Wrong! Enter Philosophers Notes...

Philosophers Notes is a genius idea that I'm massively excited about. This product is brand new, of the highest quality, and I truly love it.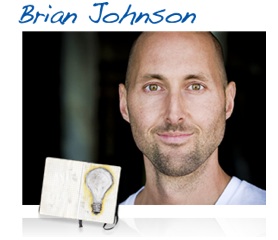 In fact, I'm so excited about it that I practically begged Philosophers Notes' CEO Brian to let me join his affiliate scheme after I brought Philosophers Notes myself (he said no at first as they only work with HUGE companies – but I was so passionate I got him to see my side of the story!)


Anyway, the idea behind Philosophers Notes is simple: rather than having to trawl through all these books, what would happen if you could just extract the biggest ideas, themes and life-changing info from them?

And what if you could put these key, life-changing nuggets of wisdom on wealth, health, success and attraction into a format that was easy to digest and internalise?

And what if you could get all of this info in just 20 minutes a day (or less!?)


And what if, rather than costing hundreds or thousands of dollars, you could get all of this empowering info for just $47...?!


(I know – without sounding too hyped, Philosophers Notes provides CRAZY value for money!)



Hmm... Sounds a bit too good... Where's the catch?

Erm... Well, I thought exactly the same, but after two days of using Philosophers Notes... Honestly, there isn't a catch.

Please bear in mind that I've only ever recommended binaural beats and isochronic tones at Personal Development Planet, because they are the only self growth products I've used that truly work and provide amazing value for money. I refuse to endorse products that aren't awesome – I value my reputation and my readers' trust very seriously.

In fact, only two days ago I was moaning to my girlfriend that I couldn't find any AMAZING products to promote on my site.

Naturally, as Personal Development Planet is now my predominate source of income, this was becoming a bit of a problem. Luckily, the universe helped me out and brought Brian and Philosophers Notes across my path within a day – and now I'm genuinely massively excited about a product I'm thrilled to stake my name on!

I've already been through 8 or 9 of the Philosophers Notes' chosen books already, and I'm totally loving it...



Here's how Philosophers Notes Works:


For each of the 100 Philosophers Notes books, you get a professionally designed 6 page PDF, packed with key ideas, themes, quotes and suggested further reading, and a 20 minute MP3 audio.


This is the perfect size - loads of quality info (about 15-20 key themes per book) - but not enough to overwhelm.

The great thing about having both audio & visual options (at no further cost) is that you can bang them on your ipod, read them on an iphone / laptop / e-reader, or do both – it's totally up to you.

The idea is that you listen / read one book in the morning (if possible), and then spend the day feeling awesome and inspired - and actually implementing your new learnings.



Oh, here's the main concerns I had about Philosophers Notes before buying, and my thoughts now. I guess I was just sceptical by the uber-low price. I figured either:


the quality would be low (NO – FAR FROM IT – PHILOSOPHERS NOTES ARE ALL TOP QUALITY)


the MP3s would be boring (NO – BRIAN IS FUNNY, ENGAGING AND VERY SMART )


the info would be only partial (NO AGAIN – I TESTED BRIAN'S SKILLS OUT WITH 7 BOOKS I KNOW AND LOVE, AND MAN CAN THIS GUY EXTRACT THE KEY INFORMATION FROM THEM – SERIOUSLY, THE MAN IS A GENIUS!!)




Here's a snapshot of one of the Philosophers Notes interface so you can see for yourself how idiot-proof it is:




It's real easy to use and navigate. Once you download a file, they are very well designed, easy to read, and packed full of high-value info. You can even download all the PDFs and MP3s in one go via a ZIP file. Boom!




Who is this for?


Philosophers Notes is truly for anyone with a healthy interest in personal development. If you are strapped for time, yet want to read more and have been struggling to make it happen, this is definitely for you.


Also, if you're new to self growth this is the perfect way to start. I wish this had been around when I first started.


Even if you've read most of the 100 books (unlikely I know), this product serves as an amazing way to recap what you've learned, and highlight the key passages and ideas.


Additionally, reading OR listening makes you feel motivated, energised and massively positive. If you could benefit from feeling like this in just 15-20 minutes a day, and have $47 in the bank... Boom! Look no further.




Who is this NOT for?


Er, people who hate personal development, reading and listening to MP3s...?! ;-)


Honestly, I hate to give massively positive reviews as they can appear less than genuine, but I'm struggling to think of anyone interested in self growth who wouldn't think that this is an amazing product.


Give it a go and see for yourself.




Next Steps...


If you're interested in extracting the 15-20 key ideas from the top 100 personal development books of all time, visit the website now for more information or to buy.



You can get an instant download of all 100 Notes for $47.


If you're feeling really good about this then treat yourself to the full package for $150. This includes a beautiful folder with all the Notes from the 100 books in them, plus an MP3 player with the 100 Notes already pre-loaded. If you're not strapped for cash, I'd recommend this option as it makes an amazing collectors item and will make sure you use it every day, but there is absolutely nothing wrong with the download option.


Oh – before I forget – there's a massive, iron-clad 60 day money back guarantee too. The company that Brian is partnering with on this (Mind Valley) is one of the world's top personal development companies, and it's all above-board and secure, etc, so there's no need for any worries.



I hate to say it, but this is a little bit of a no-brainer!!


Anyway, that's it from me. I know you'll enjoy (and love!) using and learning from Philosophers Notes. My only complaint is that I wish I'd have thought of it myself!


Get Yourself a Copy Now.



PS – If you're still not sold, head over and download a free copy of the notes (PDF and MP3) for the old-school classic, Steven Covey's The Seven Habits of Highly Effective People. This will immediately lay any fears to rest, I promise!




PPS – Here's all the wisdom you get for $47/$150:



1.A New Earth by Eckhart Tolle
2. Ask and It Is Given by Esther & Jerry Hicks
3. Big Mind Big Heart by Genpo Roshi
4. Body Mind Mastery by Dan Millman
5. Conscious Living by Gay Hendricks
6. Constructive Living by David K. Reynolds
7. Do You! by Russell Simmons
8. Everyday Enlightenment by Dan Millman
9. Focal Point by Brian Tracy
10. Gay & Katie Hendricks
11. Happy for No Reason by Marci Shimoff
12. How to Think Like Leonardo da Vinci by Michael Gelb
13. Integrative Nutrition by Joshua Rosenthal
14. Ken Wilber
15. Loving What Is by Byron Katie
16. Mastery by George Leonard
17. Overachievement by John Eliot, Ph.D.
18. Paulo Coelho
19. Real Magic by Wayne Dyer
20. Spiritual Liberation by Michael Bernard Beckwith
21. Strength for Life by Shawn Phillips
22. The 7 Habits of Highly Effective People by Stephen R. Covey
23. The 80/20 Principle by Richard Koch
24. The Amazing Power of Deliberate Intent by Esther and Jerry Hicks
25. The Big Leap by Gay Hendricks
26. The Dark Side of the Light Chasers by Debbie Ford
27. The First 30 Days by Ariane de Bonvoisin
28. The Four Agreements by Don Miguel Ruiz
29. The Monk Who Sold His Ferrari by Robin Sharma
30. The Now Habit by Neil Fiore
31. The Other 90% by Robert K. Cooper
32. The Path of Least Resistance by Robert Fritz
33. The Places that Scare You by Pema Chödrön
34. The Power of Full Engagement by Jim Loehr and Tony Schwartz
35. The Power of Intention by Dr. Wayne W. Dyer
36. The Power of Now by Eckart Tolle
37. The Power of TED* by David Emerald
38. The Psychology of Winning by Denis Waitley
39. The Spontaneous Fulfillment of Desire by Deepak Chopra
40. The Success Principles by Jack Canfield
41. The Thrive Diet by Brendan Brazier
42. The Way of the Superior Man by David Deida
43. Thresholds of the Mind by Bill Harris
44. Tony Robbins
45. Trust Your Vibes by Sonia Choquette
46. You Can Heal Your Life by Louise Haye
47. Your Erroneous Zones by Wayne Dyer
48. Harmonic Wealth by James Arthur Ray
49. It's Not About the Money by Brent Kessel
50. Money, and the Law of Attraction by Esther and Jerry Hicks
51. Rich Dad, Poor Dad by Robert T. Kiyosaki
52. Secrets of the Millionaire Mind by T. Harv Eker
53. Spiritual Economics by Eric Butterworth
54. The Diamond Cutter by Geshe Michael Roache
55. The Science of Getting Rich by Wallace D. Wattles
56. The Seven Spiritual Laws of Success by Deepak Chopra
57. Think & Grow Rich by Napoleon Hill
58. Authentic Happiness by Martin Seligman
59. Emotional Intelligence by Daniel Goleman
60. Flow by Mihaly Csikszentmihalyi
61. Happier by Tal Ben-Shahar
62. Learned Optimism by Martin Seligman
63. Man's Search for Meaning by Viktor Frankl
64. Motivation & Personality by Abraham Maslow
65. Positive Addiction by William Glasser
66. The Courage to Create by Rollo May
67. The Gifted Adult by Mary-Elaine Jacobsen, Psy.D.
68. The How of Happiness by Sonja Lyubomirsky
69. The Pursuit of Perfect by Tal Ben-Shahar (New addition) ( in place of "Living Enlightenment")
70. The Six Pillars of Self-Esteem by Nathaniel Branden
71. A Joseph Campbell Companion by Joseph Campbell
72. As a Man Thinketh by James Allen
73. Awareness by Anthony de Mello
74. Creative Mind and Success by Ernest Holmes
75. How to Stop Worrying and Start Living by Dale Carnegie
76. Love by Leo Buscaglia
77. Pathways to Bliss by Joseph Campbell
78. Psycho-Cybernetics by Maxwell Maltz
79. Take Off from Within by Ervin Seale
80. The Book of Understanding by Osho
81. The Fountainhead by Ayn Rand
82. The Magic of Thinking Big by David J. Schwartz
83. The Man Who Tapped the Secrets of the Universe by Glenn Clark
84. The Power of Decision by Raymond Charles Barker
85. The Power of Myth by Joseph Campbell
86. The Power of Your Supermind by Vernon Howard
87. The Science of Being Great by Wallace D. Wattles
88. The Silva Mind Control Method of Mental Dynamics by Jose Silva and Burt Goldman
89. The Wheel of Time by Carlos Castaneda
90. Think on These Things by Krishnamurti
91. Letters from a Stoic by Seneca
92. Meditations by Marcus Aurelius
93. Rumi Daylight by Rumi
94. The Analects of Confucius by Confucius
95. The Bhagavad Gita by Krishna
96. The Dhammapada by Buddha
97. The Enchiridion by Epictetus
98. The Selected Writings of Ralph Waldo Emerson by Ralph Waldo Emerson
99. The Tao te Ching by Lao Tzu
100. Thus Spoke Zarathustra by Friedrich Nietzsche







Still here?! Come on...

Go and take a look NOW - Personal Development Planet gives Philosophers Notes a 10/10 so you know it's got to be amazing! ;-)


Thanks for reading – and let me know how you get on. What a great idea this was... well done Philosophers Notes!





Visit the Personal Development Planet Blog