Wonderful Free Stuff
from personal-development-planet.com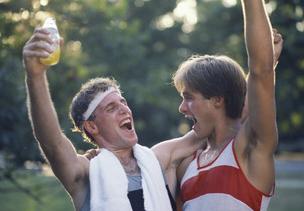 Don't say I never do anything for you...!


Here is a load of
quality free stuff from around the web that will help you on your quest for success, happiness and general well-being!


If you're gonna go anywhere on the web, you may as well go here ;-)




Products


Free Meditation CD from Holosync. Holosync is the market-leading provider of binaural beats, and is offering a $30 CD for free, which will get you into a deeply meditative state within minutes. The actual Holosync course is quite expensive (although well worth the money), so they send you this free 30 minute demo to try out first. The CD is absolutely awesome, with powerful beats that lower your levels of brain activity, and fantastic chill-out background noise - it's all very Zen, with chimes and rain and all kinds of wonderful stuff. Get the CD posted to you today - and with no pressure to buy, you'd be loco not to!


LOADS of Free Personal Development Goodies from SelfHelpStreet.com. This is a quite a treat for you - free access to a (reported)$4500 of free personal development products, including hypnosis downloads, an introduction to EFT, "The 18 Rules of Happiness", "47 Secret Herbal Remedies" and much more. The only catch is you have to sign up to Bradley Thompson's newsletter to get your goodies - which is worthwhile anyway as he has loads of cool ideas about self growth. (Equally, you can always unsubscribe at any time and depart with your free loot intact!) You can also treat yourself to an abundance of discounted personal development products at his site, so have a little browse. Sign up today to get $4500 in free products.



Free Binaural Beats from Unexplainable Store. Unexplainable Store is an amazing little company that sells all sorts of crazy binaural beats - for meditation, visualisation, lucid dreaming, manifestation and even past life regression...!! Whilst the full length downloads are great value at around $10-$15, they still offer a free 10 minute sample to get you in the mood. Well worth a look, and will get you in a nice relaxed state - perfect for commuting, power naps or just before bed. Download the demo now.


Free Meditation for Beginners e-Course. The Mind-Body Training Company is an awesome little company that specializes in proven holistic practices that bring health, happiness and abundance. They have a few brilliant meditation e-Courses you can take - and they offer a free course to get you started. This is a little gem of a course and will get you meditating in no time. They will also send you a meditation newsletter which is full of helpful advice. Highly recommended! Sign up for the Free course now.




Websites


The World of Lucid Dreaming. Lucid dreaming is the ability to consciously direct and control your dreams. This transforms your inner dream world into a living alternate reality - where everything you see, hear, feel, taste and even smell is as authentic as real life! Pretty mad, ay? Luckily enough, this awesome site has all the info you need to start experimenting with this crazy phenomenon yourself. This is by far the best site on the web I've found for lucid dreaming, and is run by Rebecca, a bright and funny girl who takes a really tricky subject and makes it sound easy... Highly recommended!


Rebecca has even been kind enough to write an exclusive introductory article for readers of Personal Development Planet - so make sure you have a look at How To Have Lucid Dreams Tonight.



Steve Pavlina's Blog. Steve Pavlina is the best personal development writer in the world (that I know of), and it was Steve who actually inspired me to start Personal Development Planet. His articles are controversial, compelling, thoughtful, and often transformational. He blogs about everything from not getting a job all the way through to the nature of subjective reality. If you're interested in personal development (and I guess you are), you will learn a lot from Steve. Just remember to pop back here once in a while :-)



Accelerated Personal Development. Wow. This is an awesome, inspiring site I stumbled upon, which I highly recommend. Filled with powerful, uplifting articles and concise "how to" guides, this is a one-stop shop for tips on meditation, spirituality and reaching your goals. If you like my site (and hopefully you do!), you'll definitely want to visit Jim's brilliant site today.



Overcome Bullying.org. This brilliant website provides information and resources to help you overcome school and workplace bullying, mobbing and harassment. Anton, the founder of the site, show you how to Speak Out Now! The Speak Out system is a powerful tool that gives your school or workplace a unique, innovative and affordable way to deal with bullying effectively. If anybody is giving you any crap at the moment, head over here to find out what action you can take today.



The Secret Alliance. This is a really cool little community of people who are interested in the Law of Attraction. You have to sign up to access the content, but if you've read The Secret and want to practice or discuss it with like-minded people, this is the place. This site encourages you to put your visualizations, affirmations, gratitude and intentions out in the universe - so if this is your cup of tea, pay them a quick visit and start attracting success!



Endless Human Potential. This excellent site offers an almost endless stream of information and tools for the development of human potential, athletic achievement and personal development. If you've got a question about the human brain or our potential to succeed, you may as well head over here... Chris' engaging and high impact site will surely meet your human potential needs!



Easy EFT. Emotional Freedom Technique is based on similar principles to acupuncture, but rather than using needles you just tap with your fingers (sweet!). Proponents of EFT say that it has the potential to reduce the cause of all negative emotions in the body - and you can find out how to do it here at fellow Englishman Graeme's brilliant site. I've done EFT a couple of times and been amazed with the results, so I'm now using this excellent resource to teach me everything I need to know about EFT. Highly recommended.



Natural Health for Fertility. Now, to be clear from the start, I am not a woman, nor am I a pregnant woman. If I was, however, I'd be all over this engaging little site, which is packed full of useful information on how natural health therapies and techniques can help you conceive, deliver and raise a baby naturally. I found this site as it's made with Site Build It! which is the same company I used to build this site. This may seem like a bit of a rogue recommendation, but if you are planning on starting a family soon, you should definitely head over to Maria's brilliant site for all the natural health tips you will need.



Science of Success Blog. This is an intriguing little blog I found from Saleem, an interesting character who used to be a journalist. His aim is to help you design your best life, and he succeeds with articles on a variety of deep, meaningful subjects. If you're interested in the deeper aspects behind personal development, Science of Success is certainly worth a look.





Go from Free Stuff to Personal Development Planet Home





FREE Personal Development Planet Newsletter

Viva la personal development revolution! Sign up for my FREE Personal Development Planet newsletter to receive unique content straight to your inbox to help you get motivated, make more money and visualise your success!

Newsletters are sent about once a month, and are crammed full of practical tips and advice – most of which is exclusive to members and won't be found anywhere else.

PS - I hate spam and would never sell, rent, lease or otherwise barter your email address. It's bad karma!