Dr. Edward de Bono
And Possibility Thinking


"Dr Edward de Bono and Possibility Thinking" is a guest article from Saleem Rana, Creator of the brilliant Science of Success Blog.
Dr Edward de Bono
has created a revolution in thinking that has not been seen since the time of the early Greek thinkers.
Possibility, ground-breaking, paradigm-shattering thinking has not evolved outside the realm of philosophical speculations and scientific discoveries since the time of Plato and Aristotle.


Since, then, thinking has been either Platonic or Aristotelian. Platonic thinking is based on examining duality, good and bad, and defining idealism. Aristotelian thinking has been based on interpreting empirical evidence.



Platonism is prevalent in philosophical and academic thinking, which is based on interpreting scientific and cultural data, trying to weave a holistic pattern. It is interpretive thinking, rather than possibility and future-oriented thinking.



Aristotelians find their fellowship in scientific thinking, which seeks to discover the unknown by interpreting the known.


However, science gains authority from observed phenomena and it, too, is interpretive, rather than possibility focused.


The thinking that has evolved has been based on known facts and established certainties; it has been a movement from the known to the known. Leaps into the unknown are either accidental or a fresh interpretation of known facts.


However, this thinking is narrow because it is not a type of thinking that creates new futures. It is more of a thinking that examines assembled information and attempts to organize and synthesize it.


Moreover, rather than covering all possible variations in a situation, both idealistic and empirical interpretive thinking are based on who has the best argument. The argumentative method is not comprehensive; it is based more on persuasive skill than on an exhaustive examination of information.



The breakthrough in thinking proposed by Edward de Bono is
possibility thinking, also known as lateral thinking and
"out of the box" thinking.
This type of thinking has taken root in advanced corporations, who use it to make economic progress and bring new technology to the marketplace.


However, for people interested in self-improvement, the type of thinking proposed by Edward de Bono can create a quantum leap in their lives.


Rather than go into more details about how possibility thinking differs from empirical and idealistic thinking, an example of a de Bono thinking model would help you to see the power of possibility thinking.



Six Thinking Hats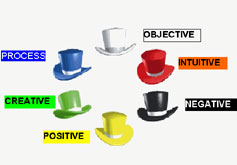 The premise of this thinking is that the human brain has distinct modes of working on an issue. These can be used to get a comprehensive view of a problem and find a solution.


Dr. Edward de Bono has identified six ways that the brain considers an issue.


White hat - Neutrality. What information is available? What are the facts?


Red hat - Feelings. What are the gut reactions? What are the feelings?


Black hat - Negative judgments. What are the flaws? Where are the mismatches?


Yellow hat - Positive judgments. What are the benefits? Where are the matches?


Green hat - Creative thinking. How far can you go with this idea?


Blue hat - Thinking about the ways of thinking about this issue.



During this process, participants put on a colored hat to signify each stage. These hats can be actual or imagined. This metaphor allows the participants to accept the selected mindset. This makes the thinking more focused. There is some speculation that each mindset has its own set of specific brain chemicals at work.


If you try this technique out yourself, you'll see just how focussed and clear your own thinking can be. It's well worth experimenting with!



About Dr. Edward de Bono

Edward de Bono got a medical degree from the University of Malta and was a Rhodes Scholar at Christ Church, Oxford where he got an M.A. degree in psychology and physiology. In addition, he has got a Ph.D. degree and a D.Phil. degree in Medicine from Cambridge University, a D.Des. degree (Doctor of Design) from the Royal Melbourne Institute of Technology, and an LL.D. degree from the University of Dundee. He has held professorships at the Universities of Malta, Pretoria, Dublin City University, and the University of Central England. The New University of Advancing Technology in Phoenix AZ appointed Dr. de Bono Da Vinci Professor of Thinking in May 2005.


In 1969 de Bono founded the Cognitive Research Trust (CoRT). This still makes and promotes material based on his ideas.He has written 82 books with translations into 41 languages, spending the past 30 years teaching thinking to governments, corporations, organizations and individuals. De Bono talks about thinking as a deliberate rather than a reactive activity, and uses a popular writing style, one that is both simple and practical, avoiding academic jargon. His contribution to Applied Psychology has been in making creation and perception theory into usable tools.


De Edward de Bono's work has become particularly popular in business, especially in corporate training courses.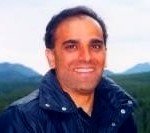 About the Author: Saleem Rana has had three careers - working as an international journalist, a computer engineer, and as a psychotherapist. He is also a published author, and has several degrees - including one in Lateral Thinking. Now, Sal runs a website dedicated to self-improvement.

Check out his brilliant, insightful articles at The Science of Success Blog.




Related Articles

Mind Habits

Introduction to NLP

Think Rich

Go from Edward de Bono to Personal Development Planet Home



FREE Personal Development Planet Newsletter

Viva la personal development revolution! Sign up for my FREE Personal Development Planet newsletter to receive unique content straight to your inbox to help you get motivated, make more money and visualise your success!

Newsletters are sent about once a month, and are crammed full of practical tips and advice – most of which is exclusive to members and won't be found anywhere else.

PS - I hate spam and would never sell, rent, lease or otherwise barter your email address. It's bad karma!