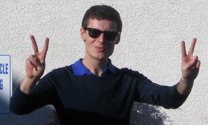 What Up Gangsta?

I hope you're happy and marvelous and well.

I've got a few awesome (I may be bias) articles for you here -

a couple which will help you with your goals (I'm presuming you DO have goals you're going after?!)...

one which will please you if you're a little bit loco...

and another which...

Well, I'll get to that now.


Self Help Seminars - Any Good?

As many of you know, last week I was in Vegas for a self growth seminar from one of the industry leaders. I was excited, optimistic and massively charged... and the whole thing turned out to be a bit of a disappointment.

You can read about my exploits - and my disillusion - in a guest post at an awesome site called A Daring Adventure, which is well worth a look. Anyway, it's called Death of the Self Help Seminar - I reckon you'll find it interesting. (Cor, leave a comment too if you could, that would be lovely!)


Goals, Goals, Goals

Yep, I know I go on about goals - but that's the point - if you DO have clear goals - and you COMMIT to making them a reality - there's very little that can keep you from your dream life.

Look, I know that's a simplistic way of looking at things - but REALLY - if you have goals, you refuse to bow to fear, and you keep taking baby steps - YOU WILL GET THERE!

Anyway, here's a couple of articles to help:


1) Regime Change. I'm doing a bit of this at the moment - changing LOADS of things in one go. Sure, it goes against conventional wisdom, logic, common sense and sanity, but it's fun to experiment with and CAN help you to make a quantum leap jump (or two) towards your dream life.

Have a go if you like - and see what results you get... they'll be big! Just be prepared to be a bit taken aback at how quick your views on life can change, when you change the external situations around you.


2) Get help from The Goals Guy. I came across this dude a couple of days ago: Long story short, he's made millions helping execs from Corporate America (Disney, IBM, Starbucks etc) to reach their goals - and in the meantime, boost sales and productivity immeasurably.

Now he's taken pity on the rest of us and put together a couple of Goal Achievement Programs.

In a nutshell, you set ANY goal, and he guarantees that he will help you to get it.

They both genuinely look awesome, so I'm doing the 100 Day Challenge - but this is only open until Jan 31 !!

If that's too quick for you, take a look at the Personal Strategic Plan - this looks awesome too.

If you're serious about creating your dream life, this could be a very sensible way to invest $75-$150 (£50-£110).

Anyway, pitch over!! (Phew)



Finally, if you've ever considered yourself a little different to the pack, you'll probably like
Why Crazy is the New Sane - a new article selling the concept of seeing the world differently to everyone else. Whilst it's a general plus (in my opinion) to see things how you want to see them, in this article I talk about how I changed my views on work to "crazy" views - and ended up happier than I've ever been in my life.

I stumbled across this idea whilst taking part in the 50 Day Philosophers Notes Challenge (as you can tell, I'm loving a public challenge at the moment!) Anyway, this idea keeps coming up again and again and again across all of the amazing books I'm reading (well, the key ideas in 20 minutes per day at least) - as all you lovely readers who signed up will know!


That's enough from me for now anyway. Please do keep checking back to the site, and sending me your comments / feedback - it genuinely makes my day... so ... go on... send the love.... it will bring you good karma (at the very least!)



Cheers for allowing me to bathe in your awesomeness ;-)


Carl @ pdplanet


PS - if you do the Twitter thing, you can add me, I'm @pdplanet. Oh, search Facebook for pdplanet and become a fan too (if you like... no pressure, naturally)

PPS - Make my day - send me a love note - come on...!!

Visit the Wonderful Personal Development Planet!



Remember to check out the 100 Day Challenge BEFORE Jan 31