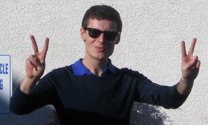 Big Love,
It's Carl from Personal Development Planet here with a content-packed update for you, to help you live life on your terms - and be bloody happy whilst you do it.
There's loads here for you - so let's get to it!
In this issue you can:
Learn how I went from full time work to a "Four Hour Work Week" in just 18 months, including what I did and what I've learned.

So if you want to be an entrepreneur - OR if you want to make some passive income, check out Living The Four Hour Work Week - A Cautionary Tale.

It will help you make money doing what you love - and avoid the mistakes I made too.





Read about the new "spiritual approach" I've found to life - which involves saying "F**k It!" a whole lot. This has helped me to become happier; focus more on what's important to me; and let go of a lot of stress.

If you're not scared of the word "f**K", take a look at Fuck It! now. (Not one for the easily offended amongst you!)




Learn the 9 simple, cheap things I do every day to make sure I have an awesome day. Don't worry if you're broke, bored or indifferent - these "free" insights will empower you to enjoy life… now.

Check out 9 Fool-Proof, Cheap Ways to Have An Awesome Day now.





From my other site Binaural Beats Geek, you can read about the top selling binaural beats of 2010.

(These are cool MP3s which massively help you to meditate, deeply relax, visualise and just generally be more centred and happy. )

They're totally safe and natural, but it can be really challenging fighting through all the competing sales pages to work out which company really provides the most effective - and best value - products.

This quick article details the top selling binaural beats so far this year, so if you can imagine your life improving with more clarity, more creativity and more relaxation, take a look at this Free Report today.

Honestly, if you're not using binaural beats, you're missing out on some powerful benefits. Take a look and give them a go dude. They'll rock your world.





And, if you missed them, check out my videos on One Minute Zen (an awesome self-hypnosis technique, suitable for beginners) and Circle of Awesomeness (a powerful NLP technique to give you absolute confidence).
Update on PD Planet
As I'm sure you know by now, most of my new work is taking place at my new blog PD Planet.
Not only is it packed full of content-rich, insightful articles (I hope!), but by signing up you get a brilliant, professionally-designed NLP eBook for free - and a 5 week e-course.
I'm getting great feedback, but it would honestly mean SO MUCH to me if you:


- Head over to PD Planet and sign up (use the box on the right)
- Read the NLP ebook and practice the exercises
- Add your comments to some of the articles over there


I'm building a great little community of young, ambitious people who are really into their personal development. I'd love it if you became one of them!
So … go on … head over to PD Planet now. Make my day - and maybe yours too :)
Mild Sales Pitch
Ah… it's that time where I remember that this is a business and I'm supposed to make some money too… Oops!
OK, here we go - if you've got some pennies to spare, a great place to invest them is in Philosophers Notes.
This excellent resource gives you the wisdom of 100 personal development / success / philosophy books - in just 6 pages per book, and a 20 minute MP3.
In short, it's the fastest way to internalise ALL of the key principles of personal development - without spending years studying - in a fun, engaging and totally effective way.
This product has helped me to massively fast-track my mindset and my levels of success, and I'm convinced it will do the same for you. (In a 50 day challenge, 1000s of people around the world made HUGE gains towards their goals with just 20 minutes of Philosophers Notes use per day!)
Check out my written and video reviews of Philosophers Notes, or head over to their website now.
(If you buy them, I make a few dollars, by the way - but they're fricking brilliant, I promise).
Anyway, that's it for now. I truly hope you're happy and trying to create a life which makes you proud.
In closing, keep defining what you LOVE to do - and do that as much as possible; say "Fuck It!" when you stress yourself out; and start playing with my 9 ways to have an awesome day.
Oh - and - head over to PD Planet. Honestly, it's gonna blow up soon and I'd LOVE you to be a part of it.

Mad love, thanks for all your support,

Carl
PS - Philosophers Notes RULE. :)
PPS - Check out PD Planet now. Boom.
PPPS - ALL THE LINKS FROM THIS NEWSLETTER ONCE MORE:
Living The Four Hour Work Week - A Cautionary Tale

9 Fool-Proof, Cheap Ways to Have An Awesome Day