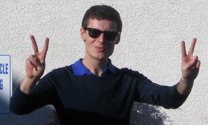 Hey,
I hope you're well and had an awesome weekend.
I've got a brilliant freebie for you today, from my friend Jamie Smart (he is my NLP trainer, one of the best in the world, and an expert at what he calls "Enlightened Success" - i.e. doing what you love, making money and being happy at the same time!)
He has just created a new (and slightly controversial) ebook called: If "The Secret"s so great... where's my Ferrari???
As a subscriber of Personal Development Planet, you can get it for free here: https://salad.infusionsoft.com/go/SEC/HAR001/
Now, to warn you in advance – Jamie certainly doesn't pull any punches in this ebook.
In this rather damning report he explains:
Why most goals are TOXIC to your life – and what you can do instead
The 5 MASTER KEYS to living a life that's rich with meaning, purpose and contribution
The specific ACTIONS you can take to get yourself "back on track" immediately
How to free yourself from what he calls the "Hidden Hamster Wheel"
...And loads more great ideas you can implement in your life right away!
After reading this report you'll finally realise why the vast majority of people who get involved in "personal development" never achieve even a fraction of the results they desire, & what you can do about it.
This kind of the stuff is the direction I'm taking PD Planet too - the ebook contains some really powerful ideas.
Go to https://salad.infusionsoft.com/go/SEC/HAR001/ now and get instant access to your free copy of If "The Secret"s so great... where's my Ferrari???
You'll be glad you did!
This is Jamie's free gift to the awesome readers of Personal Development Planet - I hope you enjoy it.
Catch you soon!
Carl


PS - I wrote about Jamie's cool "learn NLP at home" products the other day. If you're interested in finding out more, have a look at https://www.personal-development-planet.com/salad-nlp.html


PPS - I've spent the last day using "Xpirihence" - a new form of meditation MP3. It DOESN'T use binaural beats, rather it claims to use the "GOLDEN RATIO" - i.e. the same pattern that you see in nature in shells, water ripples, tree trunks... I'll get a full review to you soon, but I'm a bit blown away. I just spent 90 minutes in a Zen like daze listening to them! Unreal. If you want to get a head start, take a look at http://www.xphirience.com/idevaffiliate/idevaffiliate.php?id=57
Questions? Feedback? Contact me directly...

Visit the Wonderful NEW Personal Development Planet!