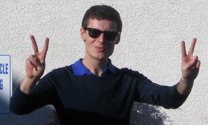 Hi,


Note - if you already got this mail because you're signed up to my other list, please forgive me and ignore it!


But otherwise, I've got something very exciting for the GUYS.


I've just launched a premium video training product called Simple Attraction Secrets; a 10 video course which empowers you to overcome fear; become confident; and get more girls.


And for just 24 hours, you can get the ENTIRE video course for a paltry $22!


You'll also get a free 30 minute video which teaches you some powerful ways to become more attractive, just for opting in.

NOTE: If you want to get the full course today for only $22, simply opt in, then buy the course on the page you're redirected to. The sales page says the price is $37, but when you click "Add to Cart", you'll see the price is automatically reduced to just $22.


Go check out Simple Attraction Secrets Now




What is Simple Attraction Secrets?

This is a 10 Video Online Training Program for guys who want to eliminate fear, become more confident, and get more girls. We've set up a membership site too, where guys can hang out & learn from their experiences.

NOTE: It's NOT about "magic" chat-up lines, special "tricks", or about becoming a "playa".

Instead, using a potent combination of advanced NLP, and proven advice from "out in the field", these 10 High Definition videos - about 4 hours of training - will take you from wherever you are now, to where you want to be.

Whatever your goals with women, we can help! On this crash course, you'll inevitably become more confident, lose fear, and get more girls.

Created by myself (I do the NLP training) and Diggy from UpgradeReality.com (he does the "outer game of confidence"), you will learn:

Video 1: Identify & Remove Limiting Beliefs around Women
Video 2: Building Confidence in Yourself
Video 3: Body Language for Attracting Girls
Video 4: Approaching Girls
Video 5: The biggest thing which Kills Your Chances
Video 6: The magic Confidence Button
Video 7: Change Your Personal History
Video 8: Visualizing Success with Girls
Video 9: Obliterating negative emotions
Video 10: The NLP Fast Phobia Cure

Also, you get a tonne of bonuses:

NLP School - the NLP eBook for Beginners
Upgrade Reality - the ultimate personal development eCourse
TWO Isochronic Tones MP3s

All of that - for 24 hours - for just $22.


Go check out Simple Attraction Secrets Now




This really is a "no hype" way to build your confidence with girls. And - for only $22 - it's a bloody bargain!!


Go take a look, and get it for 40% off... just in time for Christmas!


Go check out Simple Attraction Secrets Now




Thanks for your support
Carl