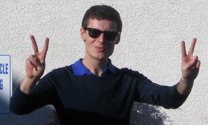 Big Love,
I hope you're well and awesome. Make sure you save this email, it's absolutely packed full of excellent, free stuff.
Let's get started - but before we do, PLEASE - if you're loving PD Planet's stuff, head over to www.PD-Planet.com and sign up for updates there.
I'll be phasing out this newsletter soon - plus you get a free NLP eBook (value $47!) - so if you want all this FREE info, take 15 seconds now.
Done it? Cool :)
Ooh - before I forget - my mate Diggy runs an excellent pers dev blog, and he's just launched his first eBook - Upgrade Reality. I've read it, it's awesome, and it's WELL worth checking out. And not just because I like the dude - you'll see when you take a look at the eBook.
OK, here's some more good stuff:
1) Free Visualization Video Series with Bob Proctor, John Assaraf & Joe Vitale.
There's a cool company called Mind Movies, which sells a cool kit so you can make your own little videos to help you manifest what you want.
They are currently doing a launch, so are offering (when you opt-in) a bloody awesome free video series on visualization, featuring some of the greats.
I just watched the 1st Bob Proctor video, it's pretty epic / inspiring. More videos to come (free) over the coming days.
Granted, they WILL try and sell you Mind Movies - but it's well worth signing up for the free stuff even if you have no intention of buying them.
Watch the Bob Proctor Visualization Video Now
2) 3 Ways To Effortlessly Influence Your Unconscious Mind
You've probably tried to "get motivated" or quit something in the past, but run out of steam. Maybe your unconscious mind wasn't fully on your team?
This article from PD Planet will show you 3 seriously simple ways you can start influencing your unconscious mind - Today.
Read 3 Ways To Effortlessly Influence Your Unconscious Mind now
3) 3 Scientifically Proven Reasons Why Writing Stuff Down Makes You Happier
This one is pretty simple - loads of clear, overwhelming evidence that buying a pen and paper will help you to experience a happier life.
If you want to be happier, just read this. And follow the simple steps. It could honestly change your enjoyment of life. (Just check the comments to see the impact it's had on some PD Planet readers)
Read 3 Scientifically Proven Reasons Why Writing Stuff Down Makes You Happier now
4) Review: How to Be Rich and Happy
Read my review of one of the most talked about personal development books this year - it's being called "The New Think and Grow Rich".
Best of all the authors are investing ALL of the profits of the book into giving away ONE MILLION copies to under-privileged people.
And - it will honestly make your life richer... Defined as "doing whatever you want, whenever you want". And - you'll help people less fortunate than yourselves.
You can't say fairer than that! It's an awesome book too.
Read my Review of How to Be Rich and Happy now
5) Do you want to work with me?
Since becoming a Master Practitioner of NLP, I've started coaching some readers of PD Planet - with awesome results. My last bit of feedback was "mind blowing!"
Basically, I'd love a chance to do the same with you. I can help motivate, inspire and encourage you - and help you to decide what you want - and go get it.
If you're not making the progress you dream of, reply to this email and we can have a free chat to see if I can help.
Basically, I'm offering:
Coaching Sessions - Work with me from 1 week to 12 months, and go and reach your goals.
and
2 Hour "Inception" Session A one-off session which will eliminate a limiting belief of your choice, and connect you with your purpose, using the most powerful NLP on the planet!!
Naturally, if you don't get awesome results, you don't pay. There's no risk - so let me know if you can imagine getting awesome results with me :)
6) Why You Should Buy Experiences, Not Stuff
Another well-researched article which describes how buying experiences - or spending money on other people - is actually FAR better for our happiness levels than buying Stuff (i.e. iPhones and Gadgets and Clothes, etc)
I'm not saying don't buy any Stuff - I'm saying don't by Stuff in the mistaken belief that it will make you happier. It won't. Read this and see why.
Read Why You Should Buy Experiences, Not Stuff, now
7) 3 Profound Life Lessons From Toy Story 3
Yep, I'm being serious :)
Toy Story 3 is a brilliant movie - with lots to teach about living a playful, purpose-filled life.
Find out the best bits in this fun, insightful article.
Read 3 Profound Life Lessons From Toy Story 3 now
That's it from me for today.
If you like this stuff (and why wouldn't ya?!) - PLEASE head over to www.PD-Planet.com now and use the sign-up box on the right to get regular updates.
Why?
You'll get an awesome new article every couple of days, rather than 7 all at once
You get a NLP eBook for free - which I'm going to sell for $47 soon
You get a free, 5 week eCourse - "5 new ways to see the world"
You can join a young community of people from around the world
It takes me over 3 hours to put this newsletter together, so I am phasing it out because I create the content elsewhere now - so you won't get this stuff anymore!
PD Planet is getting VERY awesome. And you are awesome. So it's a match made in heaven
Thanks so much. You really are awesome. I just can't deal with the logistics of running 2 PD Planets :( I'm going travelling for 6 months in a couple of months, and I will only have the time for ONE awesome website (and it IS awesome, go check it out)
All my new stuff will be at www.PD-Planet.com. Sign up now, it's TOTALLY free, and you get loads of cool stuff.
Boom.
I can't wait to see you over there!!
Mad love, I really hope your world is good, Carl
PS - If you haven't got them yet, Philosophers Notes RULE. :)
PPS - Bookmark / sign up to PD Planet now. Boom.