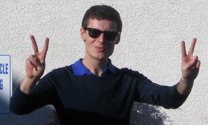 Hey,
I hope everything's awesome at your end. Just a quick mail for you today with a cool new video I put together.
It's listed over at PD Planet, my new blog. If you haven't popped over there yet - do! It's packed full of high-impact stuff (even if I do say so myself!)
The video is called One Minute Zen - and it will show you how to do this quick & powerful self hypnosis technique.
Even if you've never tried hypnosis before, you'll be able to get great results with this - you'll feel chilled out, confident, happy and at peace. Boom!
Best of all, it takes less than a minute to do (hence the name!)
Go Watch One Minute Zen now, and do me a big favour and leave me a quick comment letting me know how you get on!
Enjoy. Oh, you may find it easier with some help - meditation MP3s (binaural beats & isochronic tones) do the job nicely. Here's a really good, low cost one - Unexplainable Store's Theta Meditation.
PS - if you haven't got it yet, make sure you get yourself a FREE copy of "NLP School" - my new 40 page ebook. Boom!
Here' you'll learn 5 powerful NLP techniques - even if you're a total beginner. It will blow your mind :)
All you have to do is head on over to PD Planet and sign up in the box on the right.
The ebook will be delivered straight to you. As a special bonus, you'll also get my 5 week eCourse "5 New Ways To See The World" - delivered free, straight to your inbox.


You can also check out a 10 minute video of my favourite, most powerful NLP technique. I call it The Circle of Awesomeness.
You'll learn how to feel MASSIVE confidence now - by using your friends as inspiration... (Don't worry, you'll understand when you watch the video).
I really think you'll gain huge value from watching this.


Anyway, that's it for now. I hope you enjoyed and find this info massively valuable!
Thanks so much for being a part of the personal development revolution!
Carl
Check out PD Planet now. Boom.