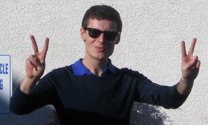 Hi,


Greetings from Africa! (I'm on holiday)


Note - if you already got this mail because you're signed up to my other list, please forgive me and ignore it!


Real quick freebie for you:


As you've probably heard me say before, Isochronic Tones are awesome. They are MP3s which lower your brainwaves, helping you to meditate, visualise and relax.


They are SERIOUSLY good for your brain. And feel fantastic to use.


Here's the awesome news for you:


Jim at Unexplainable Store (market leader) has got a free 30 minutes isochronic tone for you...


...and also is offering BUY ONE GET ONE FREE on his entire collection of binaural beats and isochronic tones MP3s.


It's a once in a blue moon offer - but is only valid until October 3. If you've never experienced them, do it now for free and you'll be hooked like me :)


Get Your Freebie and Buy One Get One Free Now


... So head over now to claim your free isochronic tone (value $35), and if you want to stock up your collection, you can double your money!


Have an awesome day and enjoy this awesome gift.


Get Your Freebie and Buy One Get One Free Now


Mad love,
Carl